History re-printed. Exhibition at the Holbourne Museum
Posted on
Went to an amazing exhibition in Bath at the weekend. I got into ceramics & jewellery because I thought you'd never be able to make handmade things with a computer. How wrong can you be ! Michael Eden, an ex potter has an exhibition of 3D printed objects at the Holbourne Museum which are inspired by historical themes, mainly vessels.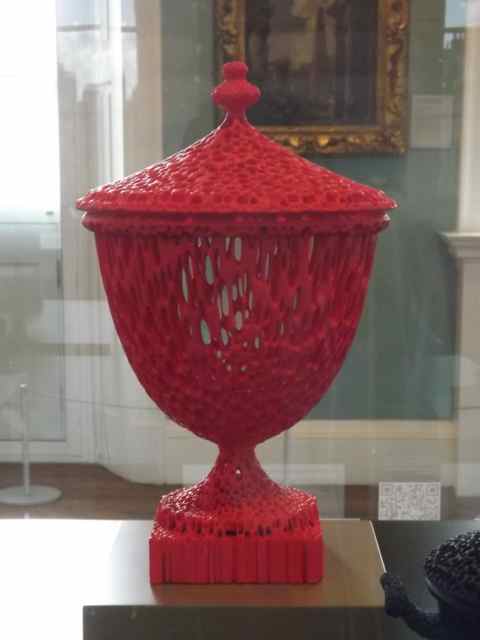 I was quite excited by these pieces, the one shown above is based on a Wedgewood Tureen, but the pattern used to make it is inspired by the cross section of a bone. The result is quite stunning. I asked myself if I would want to own one of these and thats something I'm not sure about just yet. Theres still something about touching a pot or piece of jewellery thats has the makers touch on it. However this new technology can produce delicate & intricate pieces that may not work in original materials like clay or wood or metal so it opens up new possibilities for the imaginative designer and surely thats got to be a good thing.
So now perhaps the big debate will switch from Crafts versus Fine Art to Craft versus Technology. After all how will we classify these objects? Do they count as hand made if they were made by a machine ? or will the 21st Century now have a new category of Art and what will we call it ? Digital Art perhaps.
Would like to hear your thoughts on this, the Exhibition runs until March 28th at the Holbourne Museum Bath. Catch it if you can or if not checkout the website http://www.holburne.org/events/michael-eden-history-re-printed/