I recently visited The Birmingham Museum & Art Gallery with some friends from Touchmark Studios, to see 2 exhibitions there.
The first was Wendy Ramshaw's Room of Dreams. A touring exhibition of work by the renowned Jeweller who took the Jewellry scene by storm in the 1960's. Her most recognised works are the fabulous sets of rings she made, displayed on ring stands that make the jewelry into a work of art in its own right.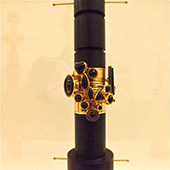 there were examples of these but also lots of pieces inspired by dreams and childrens stories like Alice in Wonderland.

The styles were diverse and used various materials & techniques, but were totally fresh & I couldn't tell which were pieces of her older work and which may have been designed recently. Many were displayed in frames on the wall.

What struck me most about the exhibition was the idea of making your jewellry into a piece of art when you're not wearing it. We all have lovely things hidden away in boxes, why not display them and enjoy them every day ?
The other exhibition we had gone to see was the Staffordshire Hoard, but I'm saving that for my next blog entry !