chasing butterflies.
Posted on
Have you noticed how butterflies are everywhere now ? On textiles, on pots and yes in jewellery too.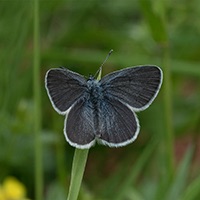 But how many of us know anything about our native butterflies ? Could you name any ? Up until recently I only knew the Peacock and Red Admiral but since my partner has taken up photographing butterflies as a hobby I've discovered Dingy Skippers and Marbled Whites and others whose names escape me unless I'm looking at a book. Another fact I hadn't realised is how different their markings are on top compared to underneath. I've also spent hours wandering around fields looking for some elusive rarities, like last weekend we went looking for some Small Blues. They are about the size of your thumbnail so not easy to spot.
Feeling hot & bothered I decided to sit down and let him wander around. I lay back to enjoy the sun then suddenly heard "don't move" I opened my eyes & there were 2 settled on my bag. One soon moved to my hand, it was tiny, but oh so perfect.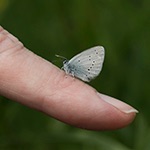 They also seemed to be attracted to my red bracelet.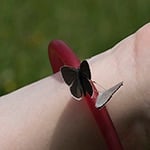 We sat watching them for about half an hour. It was magical.