My work/materials
Inspiration comes from everywhere. I was once told "don't look at other jewellers/potters for your inspiration, let it come from your other interests" Well I have lots of interests so you'll find work inspired by nature, history and other artforms such as textiles, architecture and illuminated manuscripts.
All of my work is hand made using traditional tools i.e. saws, hammers, files, and sandpaper.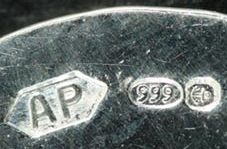 Fine and Sterling Silver
I use both of these. The difference is that Sterling silver is 92.5% silver and 7.5% of another metal, usually copper. This is to make the material more hardwearing. It is hallmarked 925. Fine Silver is 99% silver and somewhat softer and is hallmarked 999.
Silver Care
Silver will tarnish when it comes into contact with the air. To clean it I recommend using a silver cloth or some soapy water and a soft cloth to dry it.
Anodised Aluminium
I buy aluminium sheet already anodised as this is a tricky process involving acids and electric currents. The next stage is the dyeing which is where the creativity comes in. Special dyes and inks are used to create patterns or plain areas of colour. All sorts of interesting techniques can be used including printing, painting or drawing on the surface. When the design is finished it is sealed by boiling the metal which fixes the colour making it permanent.
Aluminium Care
The nice thing about Aluminium is that it doesn't tarnish, so if it ever needs cleaning just use a soft cloth and some soapy water. If the piece is Aluminium and Silver just use a silver cloth. Please note immersion in silver cleaning liquids may remove colour from the aluminium.